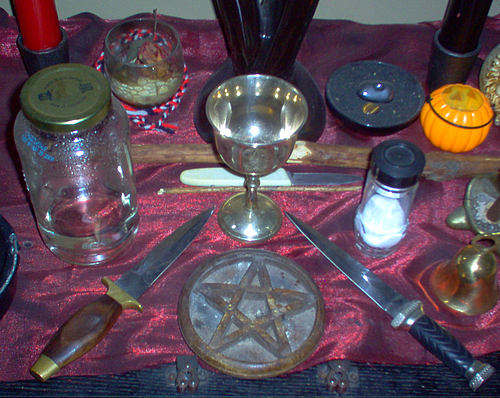 You can only kinda see them in this pic, but the God and Goddess candle holders are from Ikea, and I believe were less that $2 each. The altar pentacle is actually a wooden incense holder found at a local music/gift/head shop.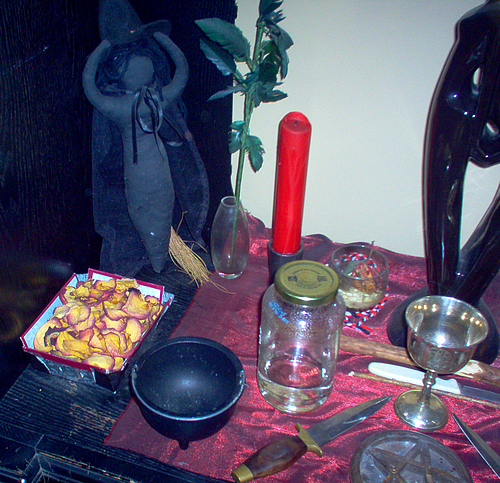 (Goddess side of the altar.) I found the cauldron at a local thrift store for something like $0.80. It's not my "ooh ideal perfect" one (I'd love to have a bigger, pot-belly one someday), but it's beautiful nonetheless. Close-ups can be seen here and here.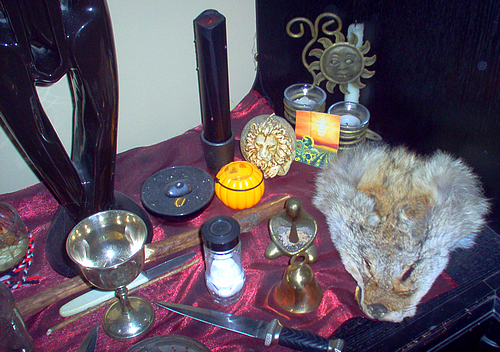 (God side of the altar.) The bell was also found at the thrift store for cheap, thanks to my mom : ) Close-up can be seen here.





(Quarter candle holders, from left, Earth, Air, Fire, and Water.) These are solid marble tealight holders, and I found them at Tiffany's of all places. They were having a "50% Off Everything" sale, and these finds were only $0.99 each. Close-ups of Earth and Air are here and Fire and Water are here.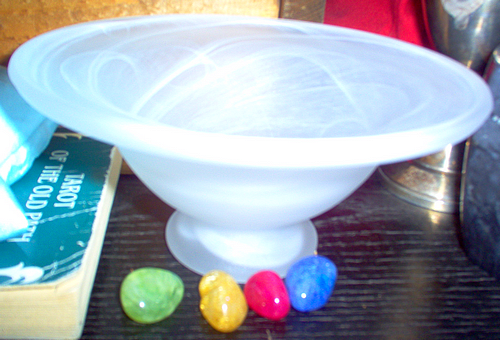 Libation bowl with Elemental-colored stones in front. The "bowl" is actually a mis-made light fixture from a ceiling fan or some such (there's no hole for the bulb to screw through) that was found at a surplus store, and the stones are from Underwater Adventures at MOA.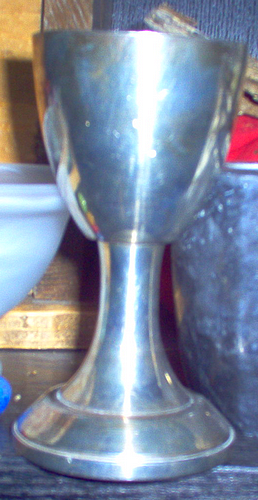 Mini goblet, looks to be silver-plated, not sure what I'll do with it. Again, found at the thrift store with my mom. She saw it and said that I needed it. IT was something like $0.80 I think. It looks an awful lot like her goblet, only smaller.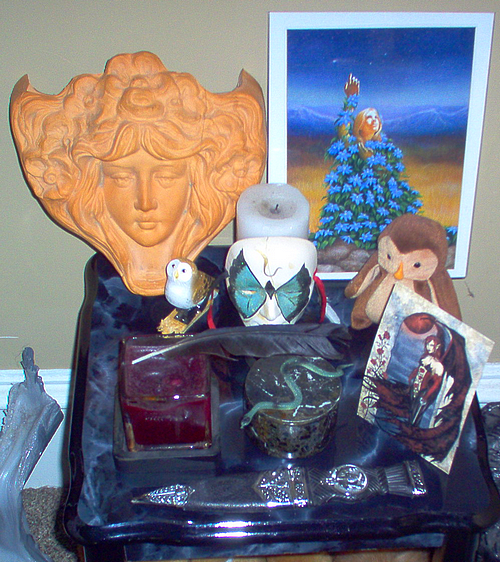 This is my shrine to Blodeuwedd and An Mhor Rioghain. For Blodeuwedd, there is a wooden Barn Owl stapler, and a Barn Owl beanie baby, again, from the thrift store. For An Mhor Rioghain, the dagger in the foreground was a gift from my husband from, you guessed it, my favorite place, the thrift store! I don't know how much my husband paid for it, but considering where he found it, I doubt it was very much.



Hope y'all enjoyed my thriftiness :P If you're curious to learn more about my altar or shrine and the reasons for what's there, check out the latest post to my journal, or it can also be seen on
pimp_my_altar :)